Technical SEO audits
If you have arrived at this page then you probably already know what a technical SEO audit is and why you need one. If not you can read this section of the page to find out.
Otherwise, read on for more specific details about my 5-star rated technical audits.
What does the technical audit include?
It covers pretty much every technical aspect that search engines take into consideration, either as direct ranking factors or indirectly as factors that improve the overall user experience, sending positive signals to search engine analytics algorithms:
Alt tags + title tags,
Logical H1 / H2,
Semantic HTML5,
Index / noindex of the pages,
Mobile-friendly,
File extensions in URLs,
Pagination management,
Schema.org markup categories / products for eCommerce,
Schema.org markup corporation, blog etc,
3xx list & cleanups,
4xx list & cleanups,
Canonicals & HREF lang,
Site structure,
Google Web Font optimisation,
Social Metas,
File size and dimensions of images,
Social Sharing buttons,
Review platforms
… and many others.
What form is the audit delivered in?
The audit is delivered as a multi-tab Google Sheet as I have found this to be far more useful to my clients than a pdf. The first tab contains the overview as a table with a column listing the issues, another column listing the solution and referencing another tab containing the detailed information about the issue, a column for who the task is assigned to, and so on.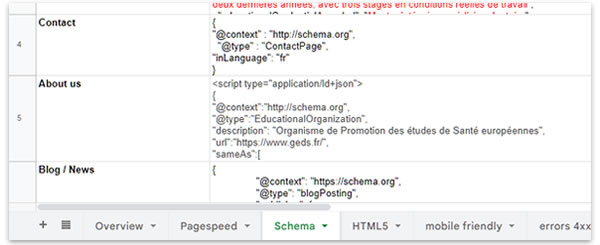 The tabs about server errors contain lists of urls. The tabs about images contain image paths, sizes etc. The tab about semantic html contains screenshots of the clients' site pages with annotations for the position of the semantic tags. The tab about schema markup contains the markup and instructions about where it needs to be
How much does it cost?
This really depends on the size of your site and the complexity of the site structure. However, a basic site audit for a small to medium-sized site costs surprisingly little compared to the benefits it brings!
---


Call me for a five-star technical SEO audit on (+33) 6 51 19 09 41 !
---
What is technical SEO?
Technical SEO is the optimization of the technical aspects of a web site that directly or indirectly affect its ranking in search engine results. These usually include page load performance and Core Web Vitals, clear communication of data to search engines, security, and user experience.
Improving the on-page technical SEO will:
make your pages load faster and give a better user experience,
help search engines find and index your pages,
send clear signals to search engines about the quality of your site,
tell search engines precisely who you are and what you do and boost your E-A-T,
reduce the dead weight and clutter that may have built up over time,
eliminate errors.
An audit is like your car inspection or your annual health check-up.
Why do I need a technical SEO audit?
Build trust in the eyes of Google and Bing …
When a search engine evaluates a web site, one of the first things it does is run through a whole list of technical points to ascertain if the site is fast, well-built and has the basic elements that show it is a serious, high-quality site.
Search engines also look for other elements (schema.org markup, semantic HTML5 markup, lists, tables …) that remove ambiguity and help them to understand precisely what the site is about, who you are, what you do and if you have the expertise and authority to be placed in the top search results.
Making technical SEO a key part of your overall strategy will get your pages ranked higher !
… and reduce the uncertainty.
SEO as a whole is complex and uncertain, and the success of your semantic SEO (content keywords etc) and backlink SEO depends greatly on how good your competitors' SEO is … but technical SEO doesn't!
It's actually just a set of points that need to be reviewed; once you have checked them all off you can focus on your content and backlinks, safe in the knowledge that your site is fast, healthy, and complies with best practice guidelines.
---
Please contact me on my contact page for more information .