Sustainable SEO, technical audits, and site migrations
06 / 12 / 2022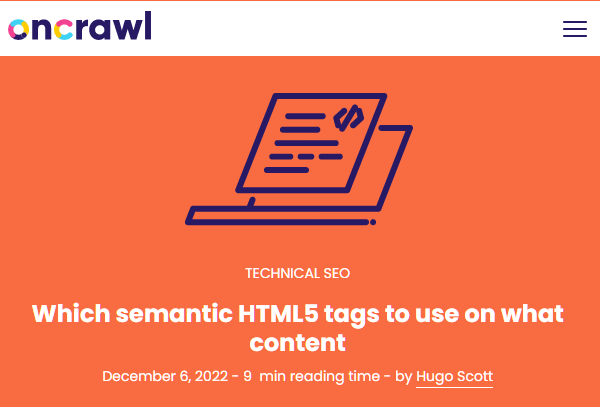 ---
SEMrush Webinar : 16 / 06 / 2020

5 heures de SEO | Bien se servir des Données Structurées pour le SEO
---
Google Atelier Numérique Montpellier : 27 / 11 / 2019

Conference : How to use structured data to boost your organic SEO
Yes come down to the Google workshop at Place Ponge, Montpellier on the 27th of November at 12.30 to find out more. Get the programme here.
---
Conference SEO CAMP'US, Paris, March 29th 2019 :
---
Welcome to my site!
With 15 years' experience of coding, site development and SEO, I offer a range of services in the domain of technical SEO that will make a real diffrence to your site.
So, what is sustainable SEO?
Google and other search engines have long sought to improve the quality, speed and reliability of websites. Following the Google Webmaster Guidelines ensures that your site will adhere to a sustainable SEO methodology that focuses on safe, robust, and transparent techniques keeping you well-positioned in search results in the long term, with complete peace of mind.
And what is technical SEO?
Technical SEO covers a wide number of aspects of your site that are important because
search engines use them as an indicator of the quality of your site and therefore they are an essential factor in ranking your pages,
they help search engines to understand who you are, what you do and why people should trust you rather than anyone else,
they improve the user experience, keeping the user on your site and making them want to come back.
How do I know what needs to be improved?
The simplest way is to do a Technical SEO Audit, which will give you a bespoke actionable list of issues on your site and what you need to do to resolve them.